Introducing the Hangar, the ultimate guitar stand for the discerning musician. Crafted from premium hardwoods, this stand is a testament to both form and function. Designed to showcase your instrument with elegance and sophistication, the Hangar guitar stand is the perfect addition to any musician's collection.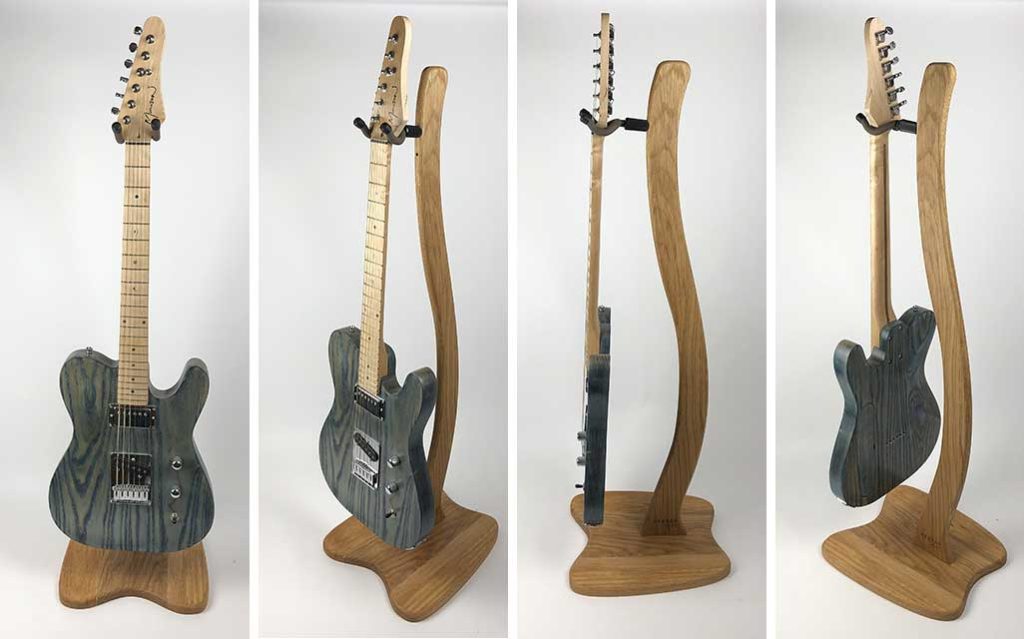 The Hangar is built to last. Each stand is crafted from the finest English & European hardwoods and locally reclaimed timbers, chosen for their durability, strength, and natural beauty, and finished in beautiful natural oil. The unique design of the Hangar allows it to securely hold any guitar, from acoustic to electric, and the soft padding ensures that your instrument remains scratch-free.
But the Hangar isn't just a stand – it's a statement piece. The sleek, minimalist design is both modern and timeless, making it the perfect addition to any home or studio. The natural wood grain adds a touch of warmth and character, while the overall design is clean and unobtrusive, allowing your guitar to take center stage.
With the Hangar guitar stand, your instrument will always be within reach, ready to inspire you to create your next masterpiece. Whether you're a professional musician, a hobbyist, or just starting out, the Hangar is the perfect way to showcase your love for music and your dedication to quality.
The Hangar Guitar Stand is:
Crafted from premium English & European hardwoods and locally reclaimed timbers
Designed to securely hold popular guitar models, from acoustic to electric
A sleek, minimalist design that adds elegance and sophistication to any space
The perfect way to showcase your love for music and your dedication to quality
Includes an origional String Swing* yoke
Feet to protect the base and your floor
Custom base engraving option available
The original Hangar guitar stand has been designed and made in Britain by the team at Munson Guitars. The Hangar guitar stand comes with the base detached for easier shipping, and is super simple to assemble. With only two screws, you will be hanging your guitar in no time.
Shop your HANGAR guitar stand now
Fits most popular electric and acoustic guitars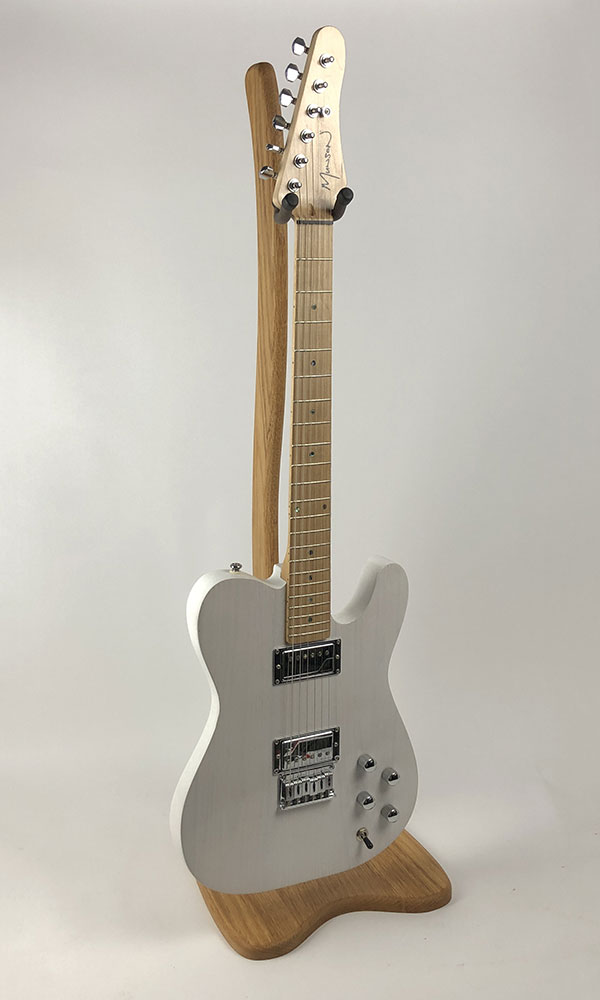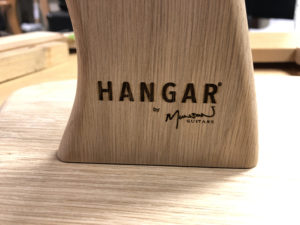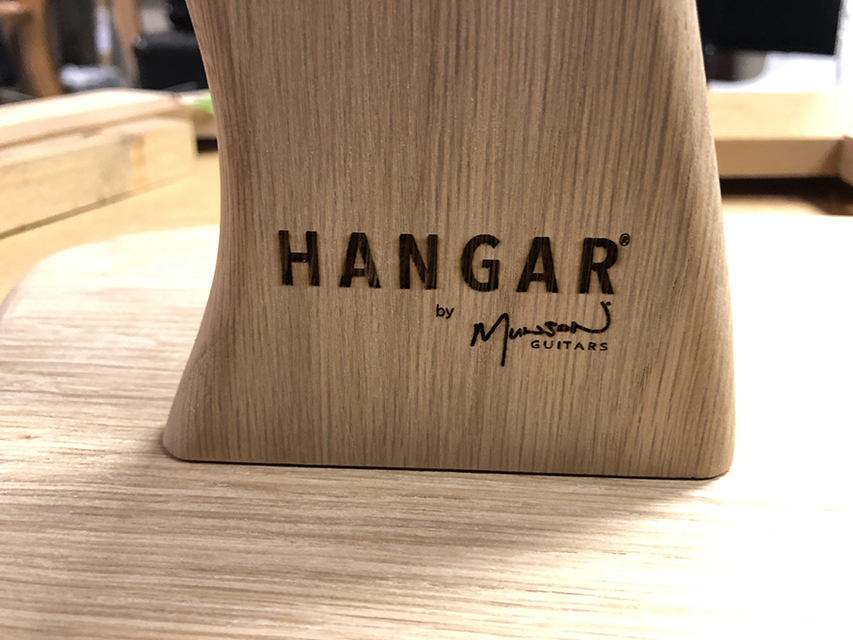 Custom Engraving Option
Personalise your Hangar guitar stand by adding text or a graphic to the base. This can be your name or the name of your instrument. Enter the text and choose your font, or upload a graphic file and we will engrave it on to the base of your hangar.
Hangar Guitar Stand FAQs
Is the Hangar guitar stand safe to use with guitars finished in nitrocellulose?
The Hangar uses the String Swing yoke which is covered by a material that will not eat into the nitro of your guitar like most foams and rubbers do. Fender, Gibson, and Martin, all use the String Swing products in their showrooms, and for trade shows on their standard and high nitro finished guitars. However, there are some things that are out of our control that prevent us from putting an unconditional guarantee that no marking will ever occur.
1. If an issue does arise there is no definite way for us to tell if the marks were caused by our products or if they were from a previously used product from another manufacturer.  
2. If you have used a guitar polish, be sure it is wiped off before you use our products. There is conflicting information on the internet as to whether polish is ever necessary or not. Also, along these same lines, do not use any chemical cleaners on our padding material. A damp cloth is fine if needed.
3. Guitars being stored in any sunlight can be a big problem, regardless of what material is being used in resting the guitar.
4. Nitro finish remains partially a liquid for its lifetime, so extended periods of time any significant pressure on the finish can result in pressure marks almost like a smear. This is worsened if the guitar was not given proper cure time when the finished was applied.
All of this being said we still have the safest material on the market for a nitro finished guitar and thousands of people trust hanging them every day. Also, if you have a nitro white Gibson, or Epiphone we have white yokes that we recommend for these extremely colour sensitive finishes. If you decide to choose our products to display your guitars, for your peace of mind, we suggest that you check your guitars occasionally to be assured of their safety.
How does the lifetime warranty work?
Lifetime Structural Warranty
Your display unit is warranted against defects in material and workmanship for its lifetime provided the following:
The unit is purchased from an authorized dealer or direct from the manufacturer.
The unit is used for what its name implies it should be used for.
The unit has not been altered in any way, or damaged by misuse.
The unit is properly installed as stated in the Installation Instructions. (The warranty is provided only to the original purchaser.)
Cab I use the hangar with instruments with asymmetrical necks?
Yes! The yoke is designed to pivot so that no matter what type of headstock design your instrument has, the hanger will keep the instrument completely vertical. We recommend turning the yoke all the way into the fixture and giving it a 1/2 turn back out, so it can freely pivot to adjust to the instrument's headstock style.
What are the shipping costs?
Free UK shipping
See checkout for international shipping rates
Can I order custom engraving on the base
Yes, you can order custom engraving on the base of the hangar. Select the custom engraving option at the checkout. You can add text up to 15 characters, or send us a graphic file.
Hangar® is a registered trademark of Munson Guitars
*String Swing is a registered trademark of String Swing Inc.