Proudly British
With styling inspired by the classic t-style design that has been rocking the world for decades, the tempest custom guitar is a blend of traditional craftsmanship and state-of-the-art technologies.  Combining flowing curves and hard edges, the tempest feels smooth and plays fast. 
The tempest is designed and crafted by our luthier right here in Norfolk in Great Britain. It is available as a custom shop guitar, or if you just can't wait to get your hands on one, we have a very limited number of pre-built custom tempest models in our private stock.
The Wood
The body and neck are made from hand picked ash and maple hardwoods. As with all our custom guitars, the woods are carefully selected for their tone and resonance, which allows for a surprising amount of sustain.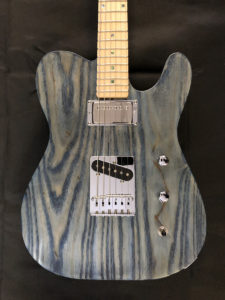 Ash is a hardwood and has a similar density and grain to oak. Ash has a hardness rating of 1200 that puts it right at the top with some of the hardest wood options available. Often, increased density and hardness of wood also increases the weight of the wood. However, one of the unique properties of ash is that it has this shock resisting density and hardness while also staying relatively lightweight which makes it a good choice for our solid bodies.
Ash has widely spaced tree rings which we enhance with our colour technology in order to create our stunning guitar body finishes.
Maple is a pale cream colour when first cut, but will darken to light yellow or pale reddish brown with exposure to sunlight. Maple is diffuse-porous with small pores, and sands to a smooth, even surface. The various species of maple are known to exhibit a wide range of figured grain patterns and are also prone to spalting. Spalted and figured pieces of maple are usually more expensive than plain boards. However, their striking visual effects can make a project very unique and eye-catching.
We use maple in our guitar necks due to its properties as a tonewood, as it resonates sound particularly well.
It's all about the finish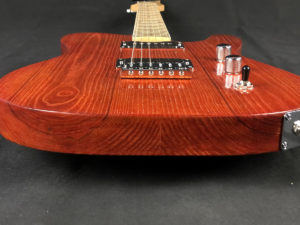 At Munson Guitars we always prefer to use finishes that leave the grain visible so you can see the beauty of the wood. We start by adding highlights to the grain before we apply a colour tint. By blending natural stains we can create a mind-boggling number of colour variations. These can be made to best expresses your personality and playing style.
There are two finishing options for the guitar body. The oil finish gives a soft, smooth satin finish which will show honest wear over time. Should you want a traditional gloss body, nitrocellulose gives a high sheen that looks amazing and will allow the finish to age gracefully.
The maple neck includes a dual action truss rod and contrasting dark walnut skunk strip. The wood is protected and enhanced by a proprietary blend of finishing oil. This delivers a hard wearing, yet soft satin feel for a super fast action.
The Tech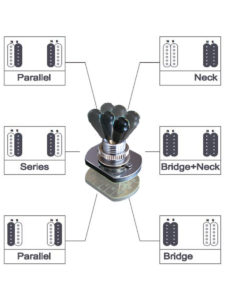 The edgy technology we have packed into the various models means that the tempest can be configured to suit almost any playing style. Pickup options include our selection of British handwound pickups and the super cool Fishman Fluence pickups. These enable us to design your instrument with the tone you desire.
All our models feature fully screened electronics which eliminates buzz from electrical interference. We use rare earth magnets to secure the back plate to the body. This makes for a quick, easy and tool free access to the control cavity.
Cutting edge switching technology gives you up to six distinct sound options* for the ultimate in versatility. The traditional oil paper capacitors and CTS pots ensure a precision audio taper which gives you smooth and accurate response. Crank your guitar up to 10 and the volume swells all the way—no abrupt flattening to choke your play.
Go on, you know you want one…
Built to inspire, the tempest custom guitar is the versatile instrument that will quickly become your go-to guitar.
The tempest is available as a custom shop guitar. Or if you simply can't wait, choose one of our limited private stock guitars.