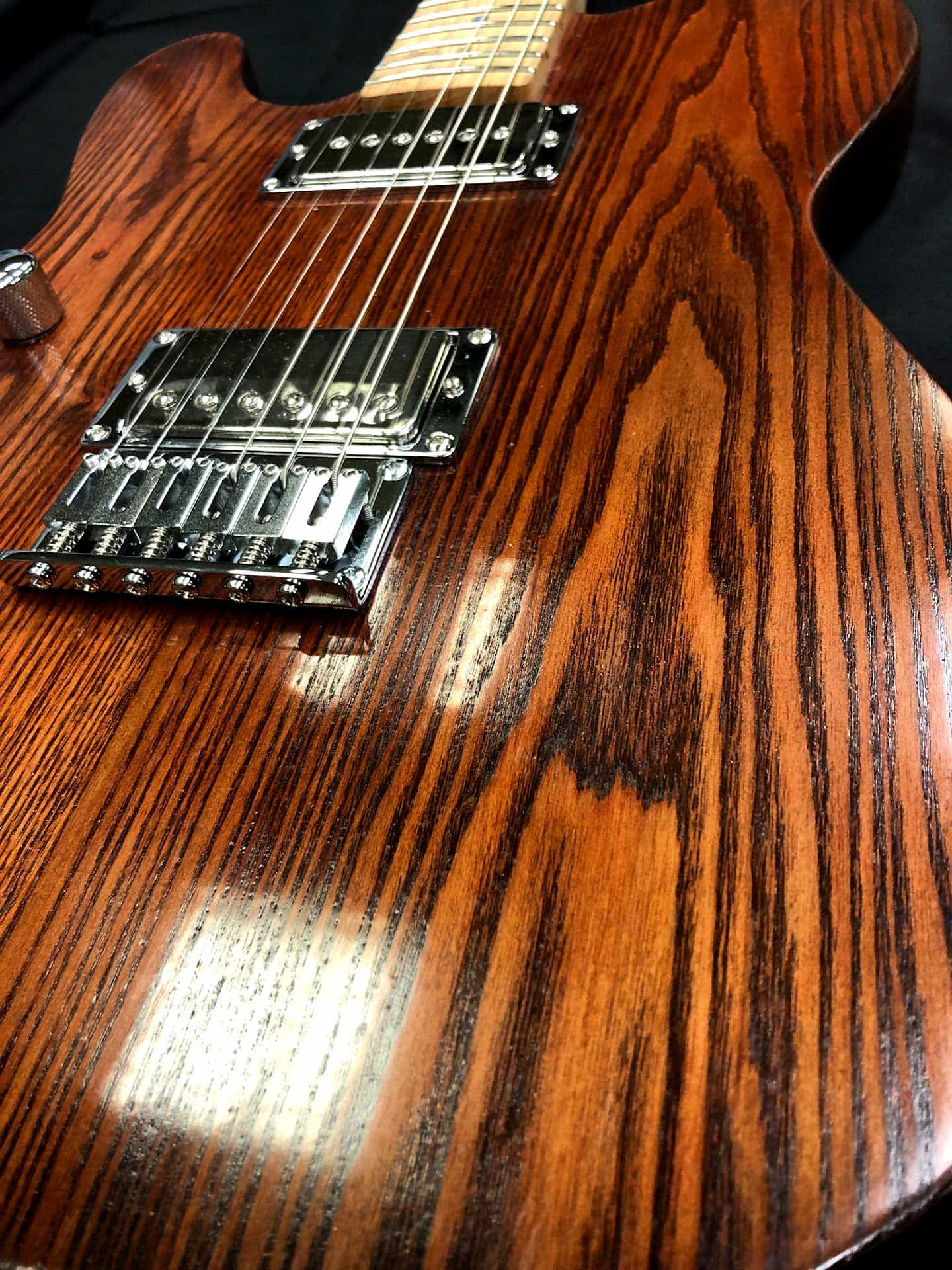 Custom Shop Guitars vs Bespoke Guitars? What is the difference between a custom shop guitar and a bespoke guitar? This article attempts to clarify what the terms mean and why you would consider one over the other.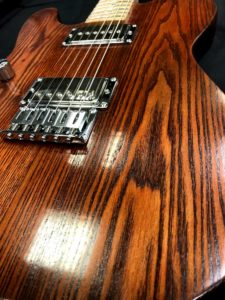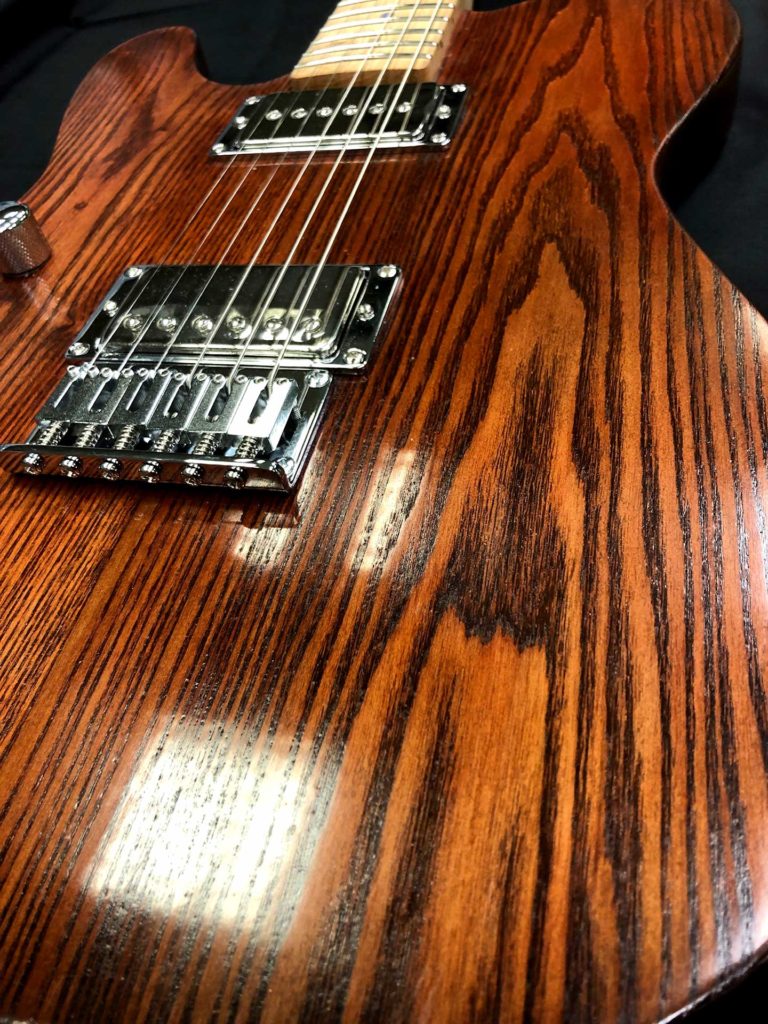 Custom shop and bespoke guitars are often referred to generically as custom guitars. Both refer to a guitar that has been especially commissioned and is designed and built by a luthier. The difference between custom shop guitars and bespoke guitars lies in the way the guitars are designed and the options available for each.
Custom shop guitars start with tried and tested designs which can be configured the way you want by selecting various options. It's still a custom guitar with thousands of configuration options, just more affordable.
Building a bespoke guitar starts with a blank sheet of paper and the design can be just about anything you can imagine. Bespoke allows for maximum flexibility and creativity.
Custom Experience
Custom Shop Guitars vs Bespoke Guitars? Whatever route you choose, what is important is that the experience is the same. You are very much part of the project, from conception to opening the case. You will experience the design and build process through virtual updates, including video and progress photos. While you can't exactly smell the wood, you will be making design and build decisions along the way, all under the expert guidance of your luthier. This is your guitar, so you need to be part of the journey.
Custom Shop Guitars
You may already have one or more guitars in your collection, and I bet you wish some of your favorites were configured slightly differently. Be that different pickups or more pickups, different tones, controls, fret size, or maybe even a different finish.
In the world of custom guitars, going custom shop is an extremely popular option. It offers a great deal of flexibility while starting with a tried and tested platform.
Choosing from an extensive range of premium materials and options gives you an almost infinite number of configuration possibilities. Customise it as little or as much as you want to meet your personal needs, aesthetic taste, playing style and sound.
You can configure your own masterpiece by combining your ideas with our years of experience to create a guitar that will be a one-of-a-kind instrument that's sure to hold a special place in your heart.
What's important is that every custom shop guitar is built from scratch for you, by one of our luthiers.
So what exactly can be customised on a custom shop guitar? The short answer is a lot. The best way to find out is to try the online builder and configure your own custom shop guitar.
Online Custom Shop Guitar Builder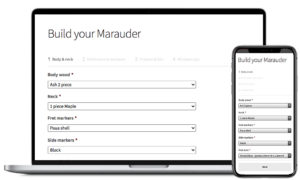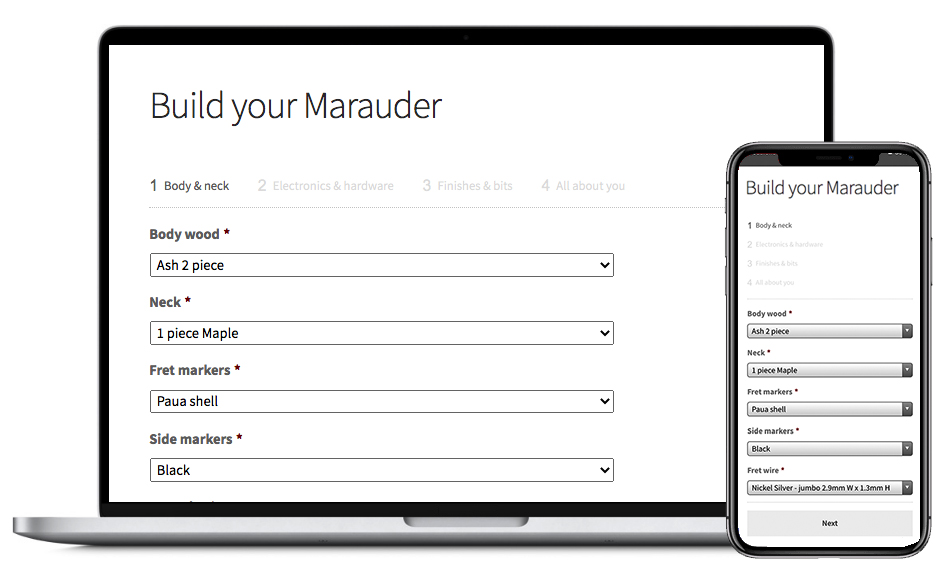 The online builder is just the start, and might not be for everyone. You and your luthier need to get to know each other in order to create the best possible instrument for you. The design call(s) are really good for getting into the details and talking about what you really want from your instrument.
The custom shop guitar you end up with is the result of your choices and your luthier's expertise. It will be a unique, well made instrument that will deliver the look and sound you want.
Bespoke Guitars
What's the big deal about bespoke guitars, when you can spend a little less money and get a good quality, branded production model off the shelf? Why do people buy bespoke guitars?
There are many reasons for commissioning a bespoke guitar. These are two that our clients often cite as their motivation:
You know what you want and have complete control over every aspect of the design of your instrument
You have an idea about what you want, then work with a luthier to develop the design of your instrument
In both cases, the bespoke guitar is designed and built from scratch. Unlike a custom shop, the design of each bespoke guitar is unique and is only limited by your imagination and budget.
Unless you really want a winged solid body with an actual beating heart, your luthier will help to turn your ideas into a guitar that looks awesome, has an amazing feel and delivers the sounds you want.
When to Commission a Bespoke Guitar
Clients will often want to commission a guitar similar to one they once had, but with some changes or enhancements. Alternately, they might have a completely new idea that has been in the back of their minds for some time, but without knowing how to turn it into reality. Whatever the reason you have to be looking at commissioning a bespoke guitar right now, you can rest assured that it will be a unique instrument, designed specifically for you and which will give you many years of joy.
Many people have not gone down the bespoke guitar route before, as it can seem a bit daunting. Exceptionally long build times and outrageous pricing make a lot of people think twice about bespoke instruments. However, we have combined the latest technology with traditional skills and developed a simple, transparent and straightforward process. This makes commissioning a bespoke guitar easy, fun and affordable. And yes, I did say fun. It's fun for both of us. And it all starts with an initial chat to get to know each other and to discuss what you have in mind.
Our bespoke guitar process puts you in the driver's seat from day one. Your luthier is your guide through the process and will ensure you are engaged every step of the way.
In Conclusion
So what is the answer to the Custom Shop Guitars vs Bespoke Guitars question? Both custom shop and bespoke guitars result in an instrument that is personal to you. Custom shop is a more cost effective option and build times are typically quicker. Bespoke guitar design is only limited by your imagination. It's down to your own requirements as to which is the best option for you. Check out the website for more information, click here to read about how to go about commissioning a custom guitar.